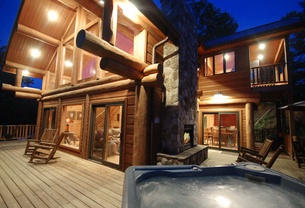 2 BR / 2 BA / 9 PPL - Bryson City, NC
Watershed 11 is one of our most popular cabins with the outside fireplace, pool table, hot tub, and long-range view. It is just minutes down to hwy 74 and only 4 miles from the NOC or Tsali mountain biking.

Also, this cabin is located on our 50-acre tract we call the Watershed Resort. What is the Watershed Resort? We have produced a video to answer that question and many more on the Watershed Resort website's about us page.